Exercise Bike Workouts
Interval Exercise Bike Workouts
One of the most popular ways to lose weight in the comfort of your own home is to use a stationary exercise bike. The main benefit is the convenience and the controlled environment for your workout. For example you can watch tv while working out - now thats convenience. You dont even need to worry what the weather is doing outside. Exercise bike workout routines target many different parts of the body and different muscle groups. The main target muscle group are the thighs and calfs. You lower back and triceps also get a great workout supporting your body, especially when doing interval training.
Select the Workout that interests you
Aerobic Exercise Bike Workout
A good workout to get fit and burn fat

Interval Exercise Bike Workout- intermmediate
An Interval routine developed to burn 3 times more fat than aerobic exercise

Interval Stationary Exercise Bike Workout- Advanced
For those with a solid fitness base - very demanding

Benefits of Exercise Bike Workouts
Another major benefit of using the exercise bike for your workout is being able to efficiently monitor your heart rate so you exercise within your target heart rate range to maximise the burning of fat. Without a heart rate monitor, it is safer to take your pulse on your neck or wrist on a stationary bike than out on the streets. An other option is to buy a heart rate monitor.
After using the heart rate chart to calculate your optimum weight loss heart rate range, you can increase your intensity so your heart rate beats per minute (bpm) sits within the desired range. Another great source of information about exercising to burn fat is the Fat Burning heart Rate site which will show you how to use your heart rate to exercise efficiently to maximise fat burning and weight loss.
Exercise bike workouts are great for people with knee or back problems. Your weight is supported by the bike so there is not so much stress on the joints or the back. You need a good seat and I have a pair of cycling knicks with a padded chamis that racing cyclists use for more comfort.
Problems to consider
One of the major problems with working out on an exercise bike is boredom. If you can overcome that, you can burn a lot of calories with this type of workout. One of the most effective methods to alleviate boredom is to watch TV. For that you need a silent exercise bike - one with a magnet for resistence. I have an exercise bike with a fan on the front for resistence. It is great for keeping cool but is noisey. I love to turn the music up and watch the Tour De France on TV, or some other sports where you dont need any sound.
Complete Fat Burning Workout Program.
The best way to lose weight is to combine an exercise bike workout with some form of weight training. Low intensity cardio work, such as that achieved on an exercise bike is great to burn fat, but it is also important to increase your metabolism to continue to burn fat even when you are not exercising. The best way to increase your metabolism is to convert fat to muscle. Muscle burns more calories than fat, so the more muscle you have, the more fat you will burn naturally.
Exercise Bike Workout Routines
It is always important to do a warm up so you dont stress your heart or other muscles which could lead to injury. Warm up for 10 minutes, gradually increasing your heart rate to reach the optimum heart rate threshold.
Aerobic Exercise Bike Workout
Once warmed up, one of the best ways to increase your fitness level and burn fat at the same time, especially for people looking for a beginner exercise bike workout routine, is to exercise for 20 to 30 minutes at around 65 percent of your maximum heart rate. Refer to the heart rate chart to calculate your bpm at 65 percent.
This is a good target to aim for, because exercising for 30 minutes at 65 percent of your maximum heart rate burns approximately 300 calories. 300 calories is reported to be the point you need to achieve to not only burn fat but keep it off.
Then warm down for 10 minutes. This is critical to aid your recovery.
Keep in mind that if you havent yet achieved a level of fitness to be able to maintain your 65 percent heart rate, ride at a lower percentage, but for longer. For example, working out at 50 percent of your maximum heart rate will mean that you need to train for 45 minutes.
Here is a beginner exercise bike workout routine to help you see what a typical workout routine looks like. You can also look through the video and follow the instructions because this particular routine gives you a great cardiovascular workout and also works the core muscles of your body.
Video Demonstration Beginner Exercise Bike Workout Routine
Before you start the entire workout, you should already be familiar with the intensity level of your exercise bike. For example, level 0 gives you almost no resistance and intensity. Levels 3 to 4 gives you a moderate intensity level, and these levels are usually used for warm ups. Level 5 is already a bit harder, and you will already start to feel challenged during your exercise routine.
Level 6 is hard, level 7 is very hard, and level 8 is very, very difficult. Do not use levels 9 and 10 because these levels are too hard when you are starting out and will just result to sheer exhaustion.
It is very important to be familiar with the intensity level of your exercise bike to be able to follow through the instructions, and to know which workout level you need to do.
For those who are beginners, or whose bodies are not very well conditioned, you can use the levels 3 to 5. For those who have average fitness levels, you can use levels 4 to 6, while advanced exercise bike users can use levels 5 to 8. It is best to vary your intensity levels, and to increase your intensity levels to increase the number of calories burned in a particular session. Doing the same exercise routine at the same intensity level will not only get you bored, but it will also stop your body from fully burning off those calorie and fat cells.
At the beginning of your exercise bike routine, start off at a speed that feels very comfortable to you. You can slowly begin at the speed, and you will gradually feel your heart rate rising. This is a very good warm up because it loosens your muscles and elevates your heart rate gradually to prepare you for more intense exercises. It is also very important to take note of your body positioning. This is to prevent any types of muscle pains or back and knee injuries. You should feel relaxed and comfortable.
Take note of your foot position and your back and arm position. There should be a slight dip on your toes, and nothing more than that. Press down through the ball of your foot, pulling back and up through the heel. Your knees should also be hip distance apart. You should press more through the insides of your foot so that your knees will stay in the line. You should also focus on your upper body. Try to relax your shoulders back down and try to connect to that upper core area. Pull your shoulder blades up and down and keep your upper back in a flexible and functioning position.
When you begin your exercise routine, you can first think of a flat road that gradually comes into a slight incline. This is to feel the intensity level of the routine going up. Then slowly imagine that you are biking on a really gentle hill, feeling the core of your muscles contracting as the slope gets steeper. It is also best to get into the beat of your music as you slowly adjust your incline, going to the top of the hill. You should feel your core muscles as you do your exercise routine, and feel that slight shift in your body weight. But always think about your core as you push through.
Finish a few seconds at the top of the hill, probably about 100 seconds, and come off the incline. Relax your shoulders and shake your arms out. Next, do a non-seated climb. Lift your seat up and lift your body. Relax your shoulders, then slowly stand up tall, and spin through your bike with a sort of running position. Push down through the ball of your foot, and work at a pace that you feel most comfortable at. You should feel the insides of your thighs working and the front a little bit more, and this is very important for leg balance. Drag your feet back, with your heels up and keep it going. Focus on your technique because this is an excellent workout for your thighs, legs and hamstrings.
Exercise Bike Interval Workout - intermediate
Research has proven that Interval training will accelerate weight loss. Interval training involves a series of intense efforts with recovery periods in between. The University of New South Wales recently conducted studies into interval training and has developed an exercise bike workout routine that burned 3 times the fat compared to a group of that only conducted aerobic training on the bikes. What was more stunning was that the weight loss exercise was done in half the time!
Here is that exercise bike workout
After thoroughly warming up, follow the following workout routine for 20 minutes:
Intense effort 8 seconds
Recovery 12 seconds
Intense effort 8 seconds
Recovery 12 seconds
Intense effort 8 seconds
Recovery 12 seconds
Intense effort 8 seconds
Recovery 12 seconds
Intense effort 8 seconds
Recovery 12 seconds
Intense effort 8 seconds
Recovery 12 seconds
That is 2 minutes of a twenty minute interval workout. Depending on your fitness level, you may need to incresae the recovery time at this point. There is no point exhausting yourself before half way. Try this routine every second day, combined with aerobic training to ensure you recover from this routine. As you get fitter, you can increase intensity. Remember to complete a warm down at the end of the workout
Exercise Bike Interval Workout - advanced
This exercise bike interval workout increases the interval from 8 seconds to 20 second intervals, with 45 seconds recovery between each effort. There is a two minute rest at the end of the routine, then it is repeated 3 more times. Remember to thoroughly warm up:
Intense effort 8 seconds
Recovery 45 seconds
Intense effort 10 seconds
Recovery 45 seconds
Intense effort 15 seconds
Recovery 45 seconds
Intense effort 20 seconds
Recovery 45 seconds
Intense effort 15 seconds
Recovery 45 seconds
Intense effort 10 seconds
Recovery 45 seconds
Intense effort 8 seconds
Recovery 45 seconds
Rest for 2 minutes and repeat the interval workout 3 more times. Complete a warm down.
4 Minute Fat Buring Cardio Exercise Bike Workout
Here is a four minute fat buring exercise bike workout that will increase your metabolism for up to 31 hours after the wokout.
The exercise bike workout routine uses the Schwinn Airdyne exercise bike that incorporates your arms in the exercise bike workout. It does not matter too much if you just have a standard upright exercise bike though - you will definately feel the effects of this workout!
Warm up for 5 or more minutes. Then sprint flat out for 20 seconds. Recover for 10 seconds and sprint again for 20 seconds.
Do the 20 second sprint and 10 second recovery for 8 sets, giving you a total workout time of 4 minutes
This exercise bike interval workout will raise your metabolism for a long time after you stop exercising, which will help to burn fat well after you stop
4 Minute Fat Buring Interval Exercise Bike online video demonstartion workout
For more free exercise bike workout routines check out the exercise bike workouts here
Free Weight Loss Exercise Program Report
To help you start an effective weight loss exercise program, here is a Free 4 week Workout Program that does not require any equipment. Craig Ballantyne, a world-renowned Certified Strength and Conditioning Specialist (CSCS), and author has developed a revolutionary new fat loss system called Turbulence Training", which was designed specifically to help busy men and women such as students, executives and parents with young children to get the most results in the least amount of time. Turbulence Training is scientifically proven, it is endorsed by elite trainers and top fitness magazines, and has been used by thousands of men and women for fat burning as well as strength training muscle and improving your health and energy levels at the same time. As well as getting this valuable report, I will include my fat loss newsletter with proven weight loss exercises and tips to burn that fat off forever!
I Hate Spam! I comply with the Can Spam Act - Your email address is confidential and will never be released.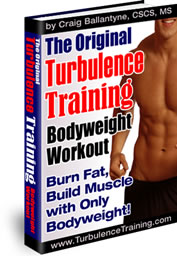 Other Weight Loss Exercise Programs